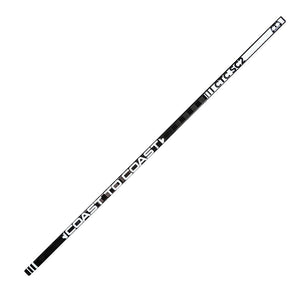 CTC Hockey
SC2 Shaft
Sale price Price $129.00 Regular price
The CTC SC2 Shaft is a super light hockey shaft with the widest range of flexes, colours and grip options. A sharp new graphics package in 5 colours and a new 45 flex option allows you to fine-tune your sticks feel and style.

The SC2 is the second edition of the Standard shaft. Using the same 18k Carbon fiber construction for maximum lightness and performance. The shafts are all Senior dimensions and will fit all standard Sr size blades

Square shaft dimensions with 3D Rib Grip along the bottle of the shaft for a Classic feel. The new Retro graphics, designed by Tony Headrick, were inspired by stick brands of the past such as CHIMO, KOHO, TITAN.
Pair with a CTC Crossover or Air Blade for a super light and fast street hockey setup.
Details:
Available from 45 flex up to 95 flex
5 colour choices

Grip or no grip options
3D Rib Grip - Textured grip on bottom edges of shaft for extra control
Full 18K Carbon construction
Square shaft dimensions with a very slight concave sidewall
Standard blade fit. These will fit all blades in our Replacement blade sections EXCEPT for Tapered

Senior shaft dimensions
Lower flexes are cut shorter

Colours:
White / Carbon - Grip and Non Grip options

Red / Carbon (Limited Edition) - Grip Only

Orange / Carbon (Limited Edition) - Grip Only

Carbon / White (Limited Edition) - Grip Only

Winter Camo (Limited Edition) - Grip Only

Flex & Shaft Length & Weight

45 Flex - 48 Inches - 262g
55 Flex - 50 Inches - 272g
65 Flex - 52 Inches - 278g
75 Flex - 54 Inches - 282g
85 Flex - 54 Inches - 288g
95 Flex - 54 Inches - 290g

Allow a variability of 5-10g in shaft weight
The Winter Camo and Carbon/White colours can add 10-15g due to the graphic wrapped around the shaft.