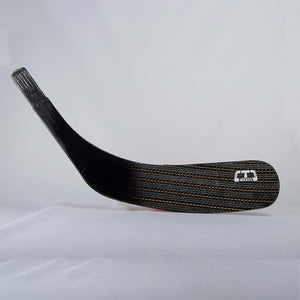 CTC Hockey
CTC Air ABS Blade Sr
Sale price Price $28.00 Regular price
CTC Air ABS Blade is available in Right and Left hands with a TS-23 / Straker / P88 type curve. The Blades are all made by hand so sometimes batch to batch there are differences in the curve.

Still a great curve for shooting a ball, I'd say a shooter and stick handlers curve for sure.
It's super light at under 200g. A shorter hosel than other brands this makes them a bit lighter and stronger in the neck.

The Air blade only has 1 minimal layer of fibreglass reinforcement on the forehand and backhand. Compared to the CTC Strong which has 2 layers on each hand (4 total layers). So at the expense of being lighter, it will wear out slightly quicker.
Still a quality blade that holds up very well on all outdoor surfaces.
Details:
192 grams
Black ABS Core
Wood Hosel
Fibreglass with black and gold threading
Pre-Glued
Straker Curve (P88 / TS23)